Product Description
CEIA HI-PE Multi Zone Walk Through Multi Zone Metal Detector
The HI-PE is a high performance walk-through Multi-Zone Metal Detector which meets all International Security Standards. A "height on person" display actually indicates, by means of illuminated LED's, the position of the weapon on the person.
Features CEIA HI-PE Multi Zone Metal Detectors
Accurate Detection of magnetic, non-magnetic and mixed-alloy metal weapons
High Discrimination and Throughput
Exceptional Immunity to external interferences
Unmatched Reliability
Rapid Installation
Panel Design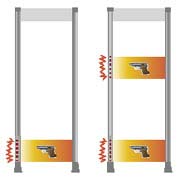 Accurate detection of all metallic threat items
Capable of detecting a wide range of threat objects composed of magnetic, on-magnetic metals and mixed alloys
Quick, accurate analysis of all parts of the body of people in transit, from the shoe level to the crossbar
Cutting-edge discrimination technology allows personal effects to be ignored, creating rapid transit flow
Superior CEIA reliability slashes total cost of ownership
New Certified IP66 Control Unit
New integrated design
Total compatibility with IP20 (plastic) and IP65 (stainless steel) control units
Robust structure through the use of high-performance polymers for the construction of housing
Waterproof / Dustproof: IP66 compliant (IEC 60529)
Exceptional impact resistance at low and high temperatures and resistance to corrosion from atmospheric agents
Display made with specific polymer to improve the visibility of the LEDs by increasing the definition and clarity
Key features
Accurate Detection of magnetic, non-magnetic and mixed-alloy metal weapons
Wide range of threat detection from guns to ½ cutter blade
High Discrimination and Throughput
Exceptional Immunity to external interferences
High precision bidirectional counter with automatic rescreening compensation
Random alarm capability programmable from 0% to 100%
Powered by safe low voltage DC
Standard Interfaces: RS-232, Infrared
Other available interfaces: Ethernet, USB
Specifications CEIA HI-PE Multi Zone Metal Detectors
Quality

Continuous self diagnostic system
Proven reliability
No periodic re-calibration and preventive maintenance required
No scheduled maintenance
Fully digital design

Gate structure

State-of-the-art, robust and washable panels
Protected against aging, weather and wear

Alarm signalling

Visual signals

Multi-zone display bar for "height on person" localization
2 light bars with selectable entry/exit and pacing indication
Green and red metering signals proportional to the mass of the detected target

Audio signals

10 selectable continuous and pulsed tones
10 selectable sound intensities ranging from 0 to 90 dbA at 1m

Type of signalling

Visual: Fixed or proportional to the mass in transit – visible from 6m under lighting of 4000lux
Visual Zone Indication: 2, 4, 8 or 20 independent zones selectable

Programming

Remote via RS-232, Infrared Remote Control Unit or Ethernet 10/100 base T interface
Security level: International Standard (IS) command
Local by Control Unit alphanumeric display and keyboard
Programming access protected by user and super-user passwords

Operational features

Quick reset time as short as 0.2 seconds for high throughput rate
Very high detection speed (up to 15 m/sec.)
One-touch key reading of inbound, outbound and Security Level Data
Installation data
Automatic synchronisation between two or more metal detectors with distance of down to 5 cm without the use of external cables

Environmental data

Power Supply: 100…277V~ ±10%, 47…63Hz, 15 VA typical consumption
Operating temperature: -20°C to +65°C (-37°C to +70°C upon request)
Storage temperature: -37°C to +70°C
Relative humidity: 0 to 95% (without condensation)

Certification and compliance

1 Compliant with the applicable Standards for Walk-Through Metal Detectors
2 Compliant with the applicable electromagnetic Standards on Human Exposure and Pacemaker Safety
3 Compliant with applicable International Standards for electrical safety and EMC
Harmless to magnetic media
Comprehensive support
---
CEIA HI-PE Multi Zone
---
Produk asli Kami distributor langsung  CEIA  Harga murah dan berkualitas bergaransi tentunya. dapat di kirim ke seluruh wilaya indonesia.
Dalam pengiriman produk yang pelanggan beli, sebelumnya sudah kami cek untuk memastikan produk dalam Keadaan baik dan siap kirim.
---