Product Description
Thuraya Marine Star
CV. Syariftama Global Indonesia memiliki berbagai macam Produk Thuraya – cari berdasarkan jenis, atau model, atau filter berdasarkan merk untuk menemukan Produk yang Anda cari. Jika Anda Masih tidak dapat menemukannya hubungi kami ..
Features Thuraya Marine Star
A low cost turnkey web-based service offering tracking and monitoring
Provides an easy-to-use online  dashboard that displays data reported by Thuraya Marine Star terminals
Enables fish catch reporting which is critical for sustainable fisheries
Assures better crew safety and welfare through notifications and SOS
Ensures improved vessel visibility & management
Supports condition-based monitoring through third-party integrations
Boosts operational and vessel efficiencies
Flexible subscription-based model
No bill shock
Ideal for Regulators, Ministries of Agriculture and Fisheries, Ship Owners, Ship Management, Port Authorities, Coast Guards, Maritime Transport Authorities and Coastal Surveillance Agencies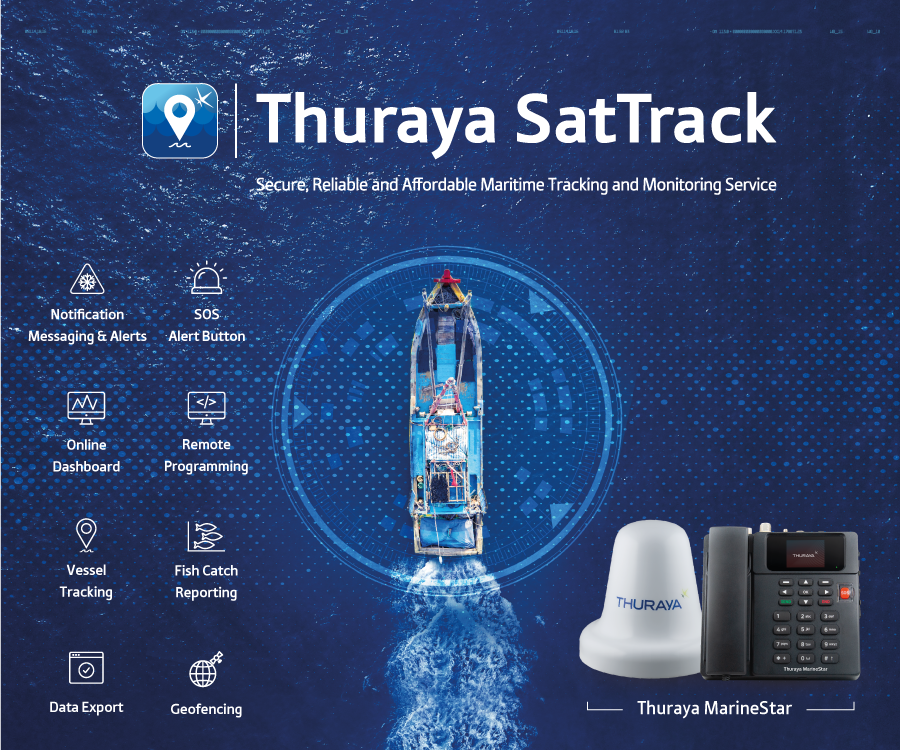 Thuraya Marine Star Technical Specification
Mechanical
Dimension
Antenna: 180mm x 170mm
BDU: 203mm x 190mm 72.7mm
Weight
Antenna: 1.3kg
BDU: 1.07kg
Environment
Ingress Protection
Base Terminal (BDU): IP32
Antenna (ADU): IP56
Approval
CE, RoHS, REACH, IEC60945 & 62368, RED & RCM
General Specification
Voice Call
Circuit-switched
SMS
Up to 160 characters (English)
Data
GmPRS (60kbps / 15kpbs) via external interface
Physical Interfaces
GPIO -2in -2out
RS-232
NMEA Support
RJ-11 analog phone extension and PBX
Inbuilt PBX between BDU and extension phone to support office-on-the-bridge requirements
3.5mm audio input
Included In the Box
Main Unit Thuraya Marine Star
Antenna
Cables GPS Dan Satellite , 25m
Mounting Kit (Bracket antenna)
DC Power cable
Kartu Simcard Thuraya
Garansi unit 1 Tahun Service Dan Sparepart
---
---
Produk asli Kami distributor langsung Thuraya Harga murah Dan berkualitas bergaransi tentunya. dapat di kirim ke seluruh wilaya Indonesia. Dalam pengiriman Produk yang pelanggan beli, sebelumnya sudah kami cek untuk memastikan Produk dalam Keadaan baik Dan siap kirim.
---